Meet Abbie Lawrence
Professional Entertainer for Kids from 2 to 102!
Abbie Lawrence is an award-winning artist and entertainer. Following extensive training, Abbie was invited by the Armed Forces Professional Entertainment Office to perform in Italy, Spain, England, Scotland, Germany, Turkey and the Azores. She founded Mime Time in 1982. Mime Time is a fully-insured top-rated entertainment company.
Abbie performs at private and public events for individuals and organizations of all types, and teaches workshops and classes around the metro area. Abbie is on the preferred entertainer list for Denver Public Libraries. She also teaches and performs for Denver Public Schools as an ArtReach instructor. For larger events requiring more than one entertainer, Abbie can advise and help you find the very best talent in Denver to meet you needs.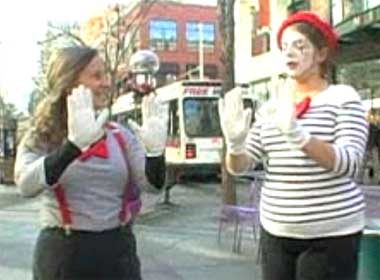 Abbie was featured on MTV's "Made" series in 2007 (Season 8, Episode 17) entitled, "Ballerina," in which she taught the featured character how to do mime. (MimeTime segment starts at 5:43)
Abbie is a member of the International Jugglers Association and the World Clowning Association. She continues to train with the best face painters, balloon artists and entertainers in the world.
Abbie sprinkles smiles wherever she goes!
Workshops and Classes provided
for the following clients
Denver Public Library
Denver Public Schools
Jewish Community Center
Arvada Center for the Performing Arts
ArtReach
City of Lakewood
Cherry Creek Public Schools
Colorado Academy
The Children's Museum
… and many more!
Past Clients;
many are repeat clients
The Colorado Rockies
Museum of Natural History
Botanic Gardens
Denver Zoo
Race for the Cure
Pepsi
Coors Brewing Company
Keystone, Vail, Beaver Creek and
Copper Mountain resorts
… and many more
Mime Time is the
perfect addition to your event!
Call or Text Us at
303-548-7167
Please note: texting is the
most efficient way of reaching us
or e-mail us!